Blonde jokes
1.
A blonde is driving along a deserted country road with fields on either side. She looks out the window and sees another blonde in the middle of a field, in a rowboat, rowing and rowing.
She stops the car, rolls down the window and yells, "You know it's blondes like you who give the rest of us blondes a bad name!"
Getting no reaction from the blonde in the rowboat, she screams, "If I could swim I'd come out there and punch you out!"
2.
Q: How does a blonde guy take a shower?
A: He pees against the wind.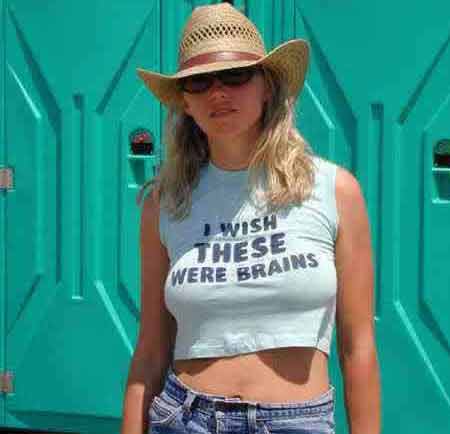 3.
A blonde was bragging about her knowledge of international capitals.
She proudly said, "Go ahead and quiz me. I know all of them!"
Her friend said, "O.K. then, what's the capital of France?"
The blonde replied, "Oh, that's so easy! F."
4.
Q: How do you sink a submarine full of blondes?
A: Knock on the door.
5.
Q: What happened when the blonde went to the movie theater?
A: She saw the "NC-17: Under 17 not admitted" sign, so she went home and got 16 friends.
6.
A blonde and a brunette were opening their paychecks when the blonde asked the brunette what she was going to buy.
The brunette replied, "I think I'll buy a new set of plates because mine are chipped. What are you going to buy?"
The blonde said, "I think I'm gonna buy a new butt, because my old one has an enormous crack in it."
7.
A blonde and a guy were out on a date and they ended up at ''Lovers' Cove'' where they were making out. The guy thought that things were going pretty good and maybe he would get lucky tonight, so he thought that he would ask her if she wanted to go in the back seat.
''NO!'' yelled the blonde.
The guy just figured that she wasn't ready yet. Things got pretty hot and the guy thought he would try again.
''NO!'' the blonde yelled again.
Things got even hotter and the blond was down to her bra and the guy even had her pants unzipped.
''Do you wanna go in the back seat yet?'' asked the guy.
''For the last time, NO!'' said the blonde. Frustrated, the guy asked, ''Well, why the hell not?''
The blonde looked at him and said, ''Because I wanna stay up here with you.''